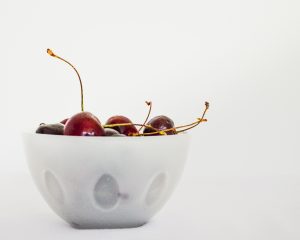 Fat is not the enemy, neither are carbs or any other food group. However, junk food does not constitute a food group any more than potato chips count as a vegetable. Here in Oceanside, CA, I preach about eating healthy and balanced. While foods like avocado, cheese, nuts and hard boiled eggs make great snacks, they're also high in fat. If you've consumed more fat than you should throughout the day, skip these as a snack and opt for low fat snacks.
Grab some fruit for a quick low fat snack.
Whether you keep a bowl of cubed melon of any type, watermelon or cantaloupe, in the refrigerator or a bowl of cherries or grapes ready to eat, you can't go wrong with a healthy snack of fresh fruit as a snack. It's high in nutrients, low in calories and provides the satisfaction of a bit of natural sugar for your palate. You'll get all the phytonutrients that normally don't come from regular vitamins when you vary the color of the fruit, such as anthocyanins and carotenoids.
Try some low fat, low calorie mushrooms.
You'll boost your immune system without adding fat to your diet with mushrooms. These fungi have been used as medicine for centuries by ancient civilizations and today science is finding there's something to that belief. Either way, they're a tasty treat. They have loads of nutrition from potassium, B vitamins and minerals to ergothioneine, an antioxidant that reduces inflammation. That can also protect you from certain types of cancer.
Go for fresh veggies with a side of hummus for dip.
Hummus is made from chickpeas, a lentil which is high in protein and low in fat. It also has tahini that's made from ground and hulled toasted sesame seeds. Since tahini is made with olive oil, you can substitute low fat yogurt to keep your hummus lower in fat. Just use a 15-ounce can of chickpeas or garbanzo beans, garlic grushed, low fat yogurt, lemon juice, tahini or more low fat yogurt, salt, cumin and cayenne. Blend it and it's ready from raw veggies and even mushrooms as a low fat snack everyone will love.
Baked sweet potato chips take some forethought and preparation, but they're a delicious snack you'll love.
Grab a glass of tart cherry juice. It will quench your thirst, help with osteoarthritis, reduce muscle soreness and is fat free.
Snacks made from ancient grains not only are lower in fat, they also provide protein, fiber, B-vitamins and other essential nutrients. They make you feel fuller, support your digestive tract and reduce the risk of heart disease. Always check the label for fat content. Not all are the same.
Wrap a piece of lean, cooked chicken breast in fresh greens. It's the perfect snack to fill you up and provide protein.